Vzero high performance dynamic servo actuator
---
VZERO has successfully delivered a high performance dynamic hydraulic servoactuator to one of the top structural testing laboratories in Southeast Asia.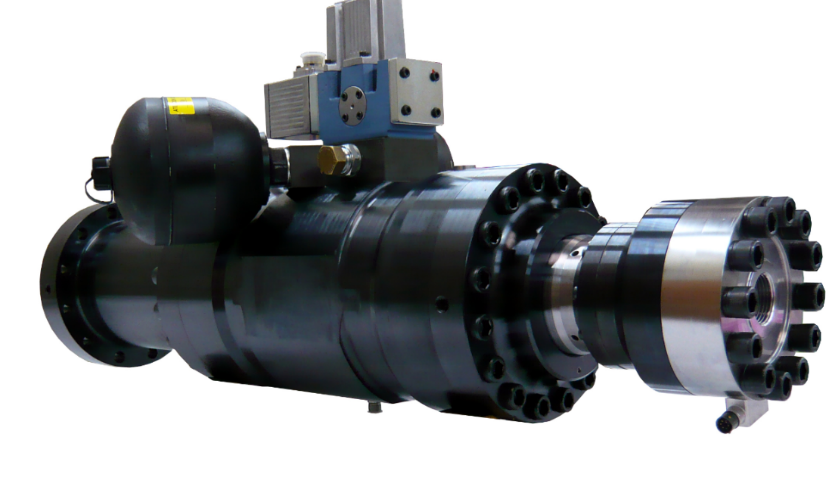 This servoactuator develops a dynamic load of up to 250 kN and has been completely designed and manufactured by VZERO. It has been customized to fully meet customer's requirements in terms of testing and actuator boundary (installation) conditions.
Among the advanced features of this servoactuator, it is worth mentioning the following:
Hydrodynamic rod bearings. These special type hydraulic bearings are able to withstand high radial loads with very reduced friction; therefore, reducing maintenance needs and increasing lifetime, as well as dramatically improving control accuracy. Hydrodynamic bearings rival with hydrostatic in many applications and represent a cost-effective alternative to the latter without sacrificing performances.
High performance servovalve and close coupled accumulators. These key elements allow the servoactuator to perform very dynamic tests by effectively widening system's bandwidth.
Versatile design. Thanks to the mechanical design, this actuator can be used either with its pedestal flange or attaching swivels to its rod and body and can adapt to different installation scenarios
With this advanced servoactuator, the CUSTOMER will be able to perform a wide range of structural tests over a huge variety of automotive, railway and aeronautical industries components and subsystems. Its design ensures flexibility, a high productivity and very low maintenance needs, which, together with its cost effectiveness, are essential features for testing laboratories worldwide.
VZERO is proud to continue its commitment to serve testing laboratories worldwide supplying them with customized, state of the art equipment at optimized prices.